Code editors. Any serious programmer has his or her favorite. Some just use notepad, others go full feature like eclipse, some like it fancy (sublime text), others like it simple (gedit) while a few even go so far as to prefer ancient editors like Emacs and Vim.. What's your (current) editor? Why do you like it? Do you have some essential tips for it's use? What makes it the best? On this forum, we discuss some of the perks of this editor versus that weekly in the chatbox, but those ideas get lost. Which is wrong. Therefore, we need a thread. A permanent place - to be used as a reference - for all things editor wise
.
I'll start with myself. After years if wandering from Notepad ++, Tinn-R, Geany, Sublime, Vi, Gedit, I ended up with Emacs.
It doesn't look great, but it's features are truly limitless if you can overcome the short learning curve required for its use.
Some reasons why I like it:
It's free. Not just "free as in free beer" but it is free in the sense of all four freedoms.
It enables rapid programming in any language through unique key bindings.
It is endlessly customizable - and many technically savvy people use it and distribute their customization for free. New customization appear with a rapid pace - it is hard to keep up.
My tip:
Using the below lisp code, I found that I could add enormous amount of functionality to my work (e.g. send pieces of code to a server to be executed, while I code on).
Code:
defvar script-name "/foo/bar/my-script")

(defun call-my-script-with-word ()
  (interactive)
  (shell-command
   (concat script-name 
           " "
           (thing-at-point 'word))))
(global-set-key (kbd "C-c o") 'call-my-script-with-word)
Dirk Eddelbuettel said it better than me
.
What is the core reason to learn Emacs? It has much to do with the saying "you can give a man a fish ...." . I'm positive that with the likes of Hadley Wickham developing R-Studio that such a integrated text-editor will soon be so feature rich that you will be able to do a great deal of what I can do with emacs. However you will never learn to implement such things yourself - with emacs you are only limited by your skill in lisp. This is the final freedom that (the church of) emacs gives you. Therefore, learn emacs if you want to catch your own fish.. otherwise rejoice in what the great fisherman Hadley,
peace be with him
, gives you.
So what's your editor?
EDIT (relevant):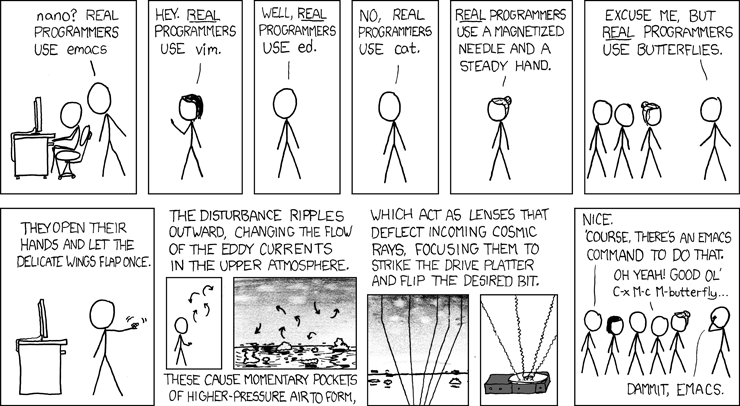 Last edited: